Ratio Eight Coffee Maker (Certified Refurbished)
From $395.00 Regular price $495.00 Save $100
The Ratio Eight coffee maker combines precision brewing technique, top-quality construction, and a design that will elevate any environment. Designed for perfect brewing from 16 to 40 ounces, the Eight uses a smart brewing algorithm to precisely mimic hand-made pour over coffee. Designed and assembled in Portland, Oregon.
---
What's included
Free ground shipping
Paper filters
---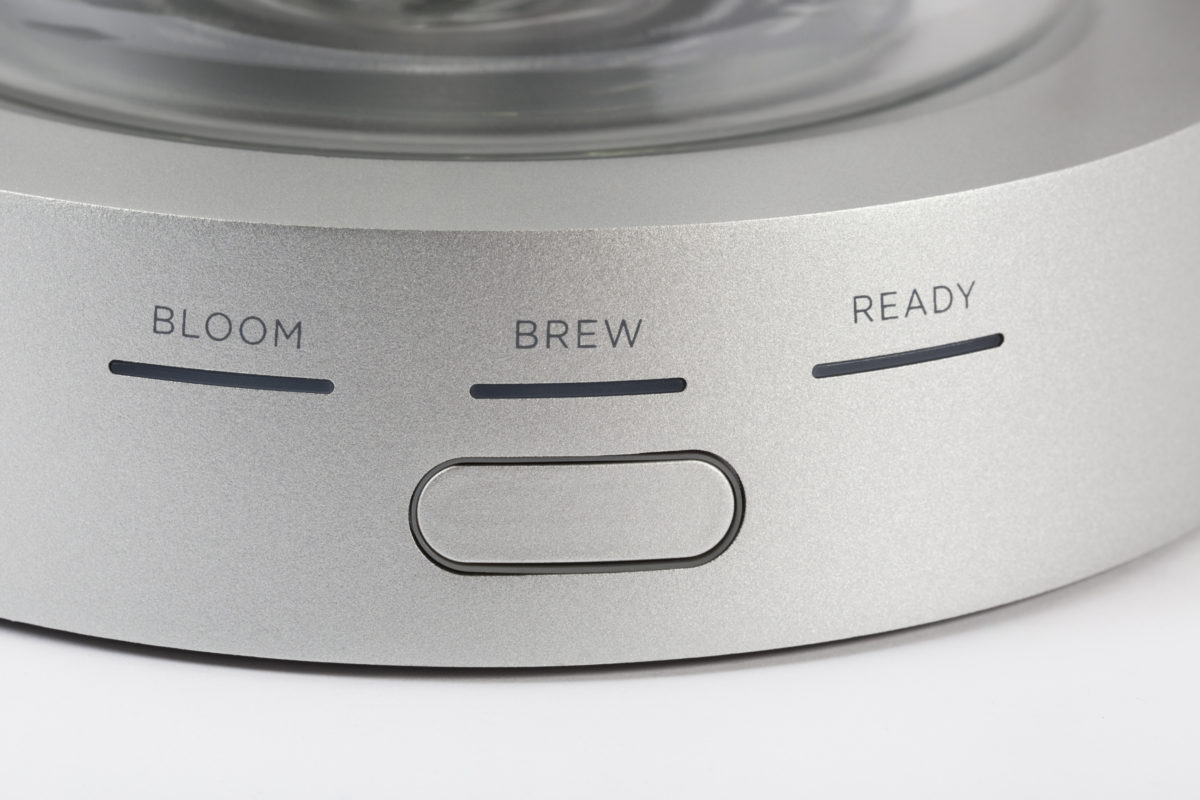 One button operation.
The Ratio Eight detects the water in the tank and changes the brew cycle automatically given the amount of liquid. Just one touch and it all magically comes together.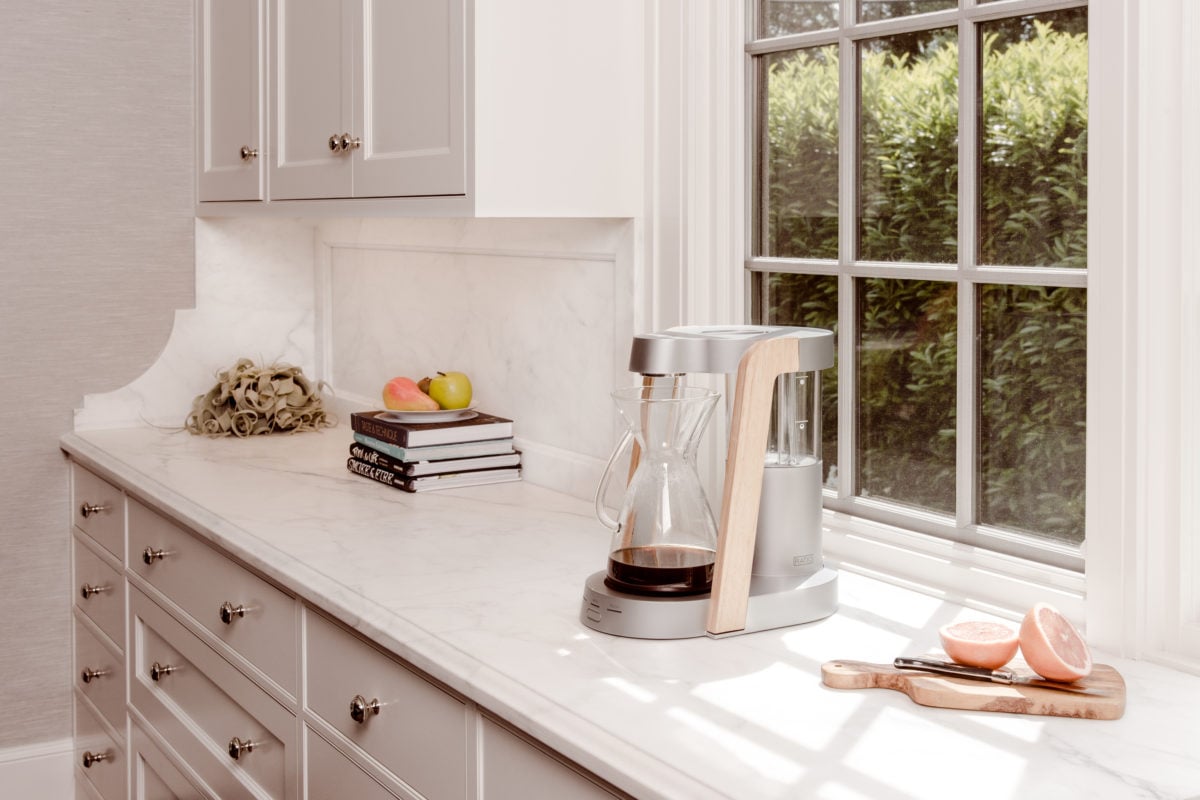 Strength of character.
We believe quality design deserves the best materials. That's why we built the Ratio Eight with precision-machined aluminum, borosilicate glass, and a selection of premium hardwoods.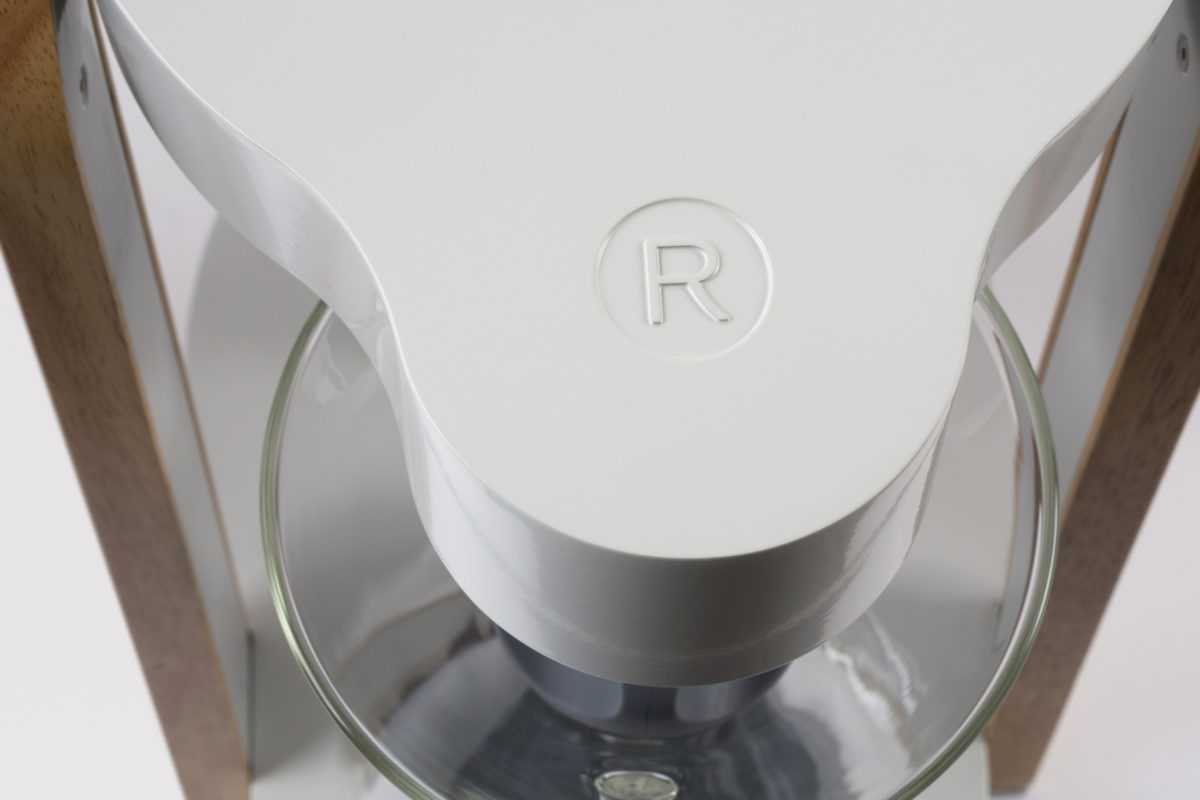 Under the hood.
A die-cast aluminum element heats water to an ideal extraction temperature. The water flows through a stainless steel shower head designed for even distribution over the grounds.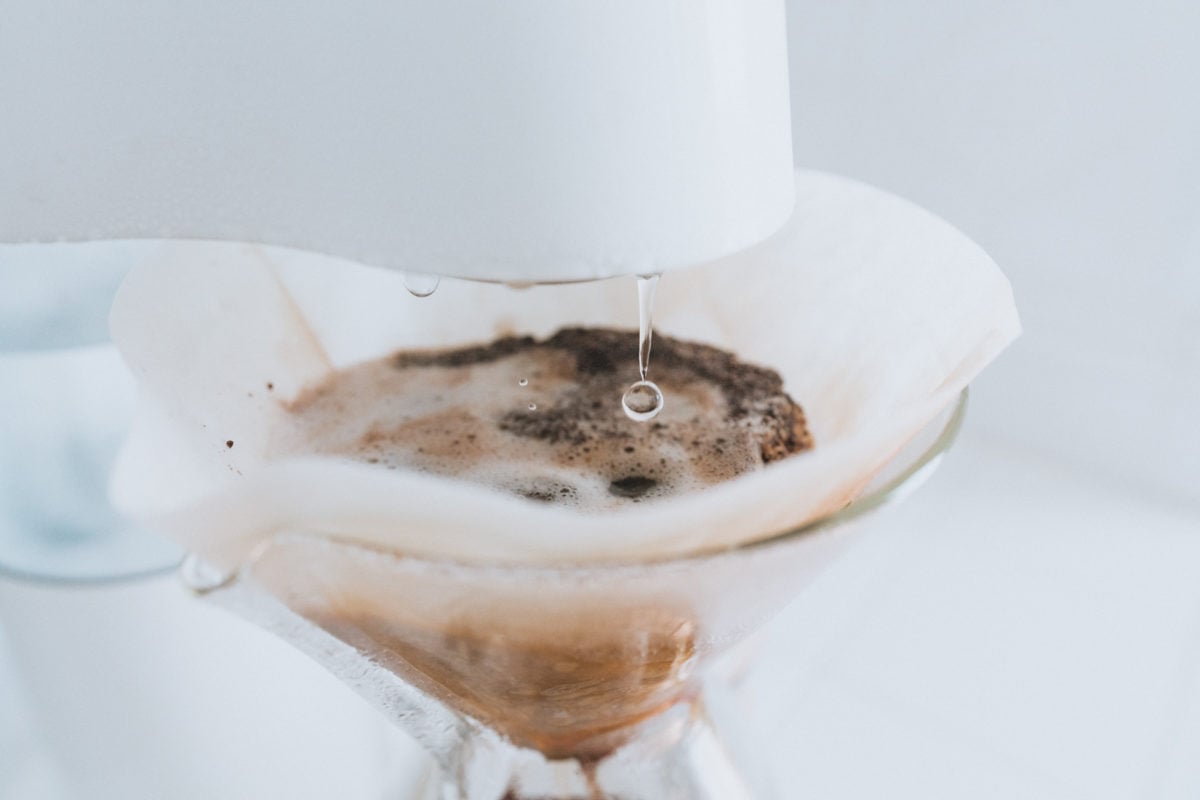 Deliciously simulated pour over.
The Ratio Eight coffee maker simulates a skilled barista pour over, precisely metering the water flow during both the bloom and brew phases. All the taste without the work.
---
Overview
Certified Refurbished Means Nearly Perfect
Our Certified Refurbished units may have slight visual imperfections such as small scratches or bubbles in the handblown glass parts that did not pass our rigorous aesthetic quality control process. All of the mechanical and electrical components are the same quality as new units. What do most people say when they see a Certified Refurbished unit? "I don't see anything wrong with it!"
That's because components with any major aesthetic issues, like big scratches or dents, do not make it into our Certified Refurbished units and are instead recycled.
Engineered for extraordinary coffee.
Ratio is smarter than your average coffee maker. Beneath the exterior is precise brewing science, automated. Ratio is equipped with a powerful heating element. Where lesser machines struggle to maintain the optimum temperature – brewing either too hot or too cold – Ratio delivers water at or near the optimum temperature of 200 degrees.
Gathering feedback from champion baristas and our customer base, we have developed a machine that emulates a manual pour-over, fine-tuned to provide a sweet cup that lacks bitterness.
Hot water poured over fresh roasted coffee causes a bubbly interaction called a "bloom." The control board of Ratio applies a bloom cycle that allows the bloom to settle down before delivering the rest of the hot water. The result? More evenly extracted grounds and a more amazing cup of coffee.
Less thinking and better drinking.
Sometimes you just want a great cup of coffee without having to think about time, temperature, and other variables. We agree, which is why Ratio has just one button and no complicated programming. The subtle white lights on the front of the machine will tell you what's happening with the brew cycle, but you probably have better things to do like catch up on your morning read. Ratio won't mind at all.
Whether a 40-ounce carafe for the party or a 16-ounce cup for the road, both should be equally easy and delicious. That's why we designed Ratio to automatically determine the amount of water you've added to the tank and adjust the brewing time accordingly.
You shouldn't have to be a trained barista to make great coffee, and you shouldn't have to be an engineer to clean your coffee maker. After brewing, simply rinse out the sturdy glass carafe with hot water, discard or compost the used paper filter, and you're done. For deeper cleaning every other week or so, Ratio cleaning detergent will keep the water tank and carafe sparkling clean.
The finest materials.
There are coffee machines that make great coffee and there are coffee machines that look great. Ratio is the first coffee machine that is truly both, combining form and function.
The materials chosen for the Ratio machine juxtapose the precision of high-tech with the irregularity of natural finishes. Precision die-cast aluminum bases with premium coatings are contrasted with figured hardwood.
Designed in Portland, Oregon, every Ratio machine is meticulously assembled by hand. While common appliances often have a built-in obsolescence and a life span of maybe 2-3 years, Ratio is designed to last.
What's Included
Handblown borosilicate Glass Carafe
Silicone Heat Lid
Ratio Microfiber Towel
Chemex Paper Filters - 4 sample filters
Operation guide
Removable power cord
Details
Brews up to 40oz. (eight 5oz. cups)
2-year warranty Powerful 1400 watt/110 or 230 volt heating element
Dimensions: 13.5" deep x 9" wide x 14" tall
Cantilevered top and base made of aerospace-grade die cast aluminum with a satin metallic or gloss finish
Laboratory grade borosilicate water lines and carafe
BPA-free copolymer water tank, or upgrade to borosilicate glass (read more about our water tanks)
Carafe holds Chemex paper filters or Able Kone stainless steel filter
Hand assembled in Portland, Oregon of custom imported components
More questions? Visit the Ratio Eight FAQs
---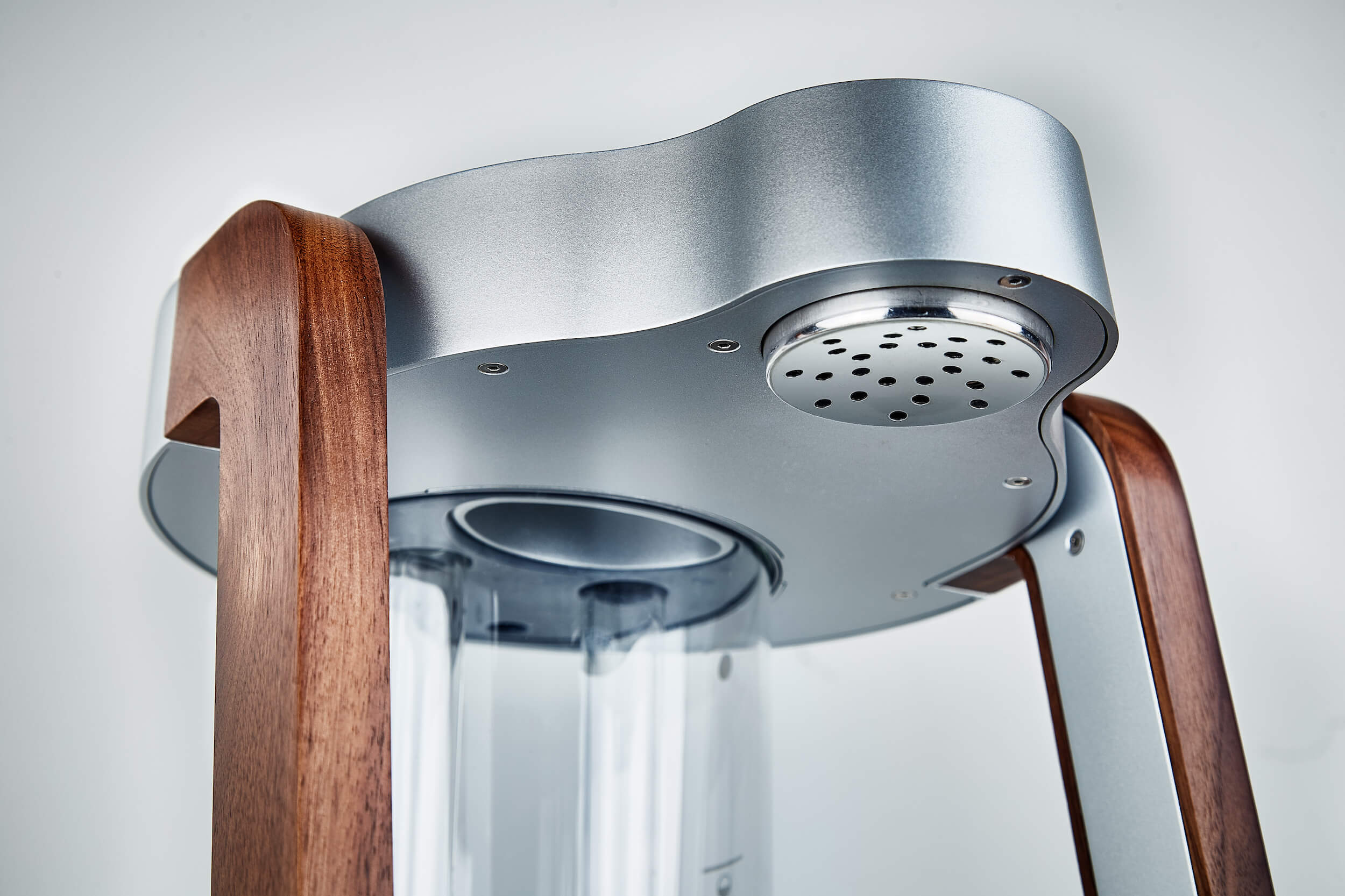 Optimized shower head.
Hot water flows evenly through the stainless steel shower head and over the grounds at the ideal extraction temperature. Each hole in the shower head is precisely placed to maximize saturation of the ground coffee, leading to the best possible flavor.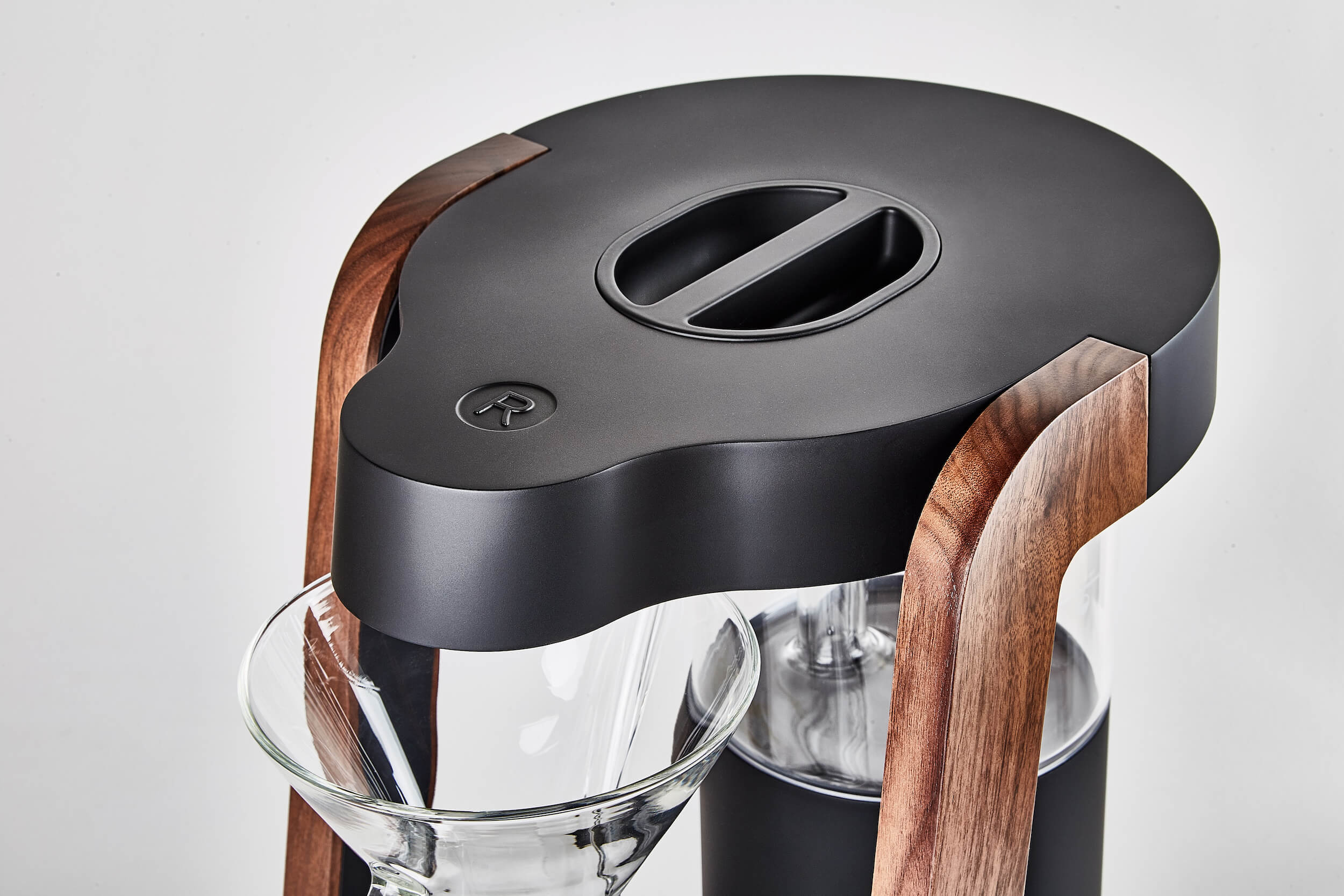 Die cast metal and hand sanded wood.
You really have to see the Eight in person to understand the fine details of each part. It is built more like fine furniture than a coffee maker. The Eight weighs a touch over 14 pounds thanks to the heavy duty cast metal, wood, and glass components.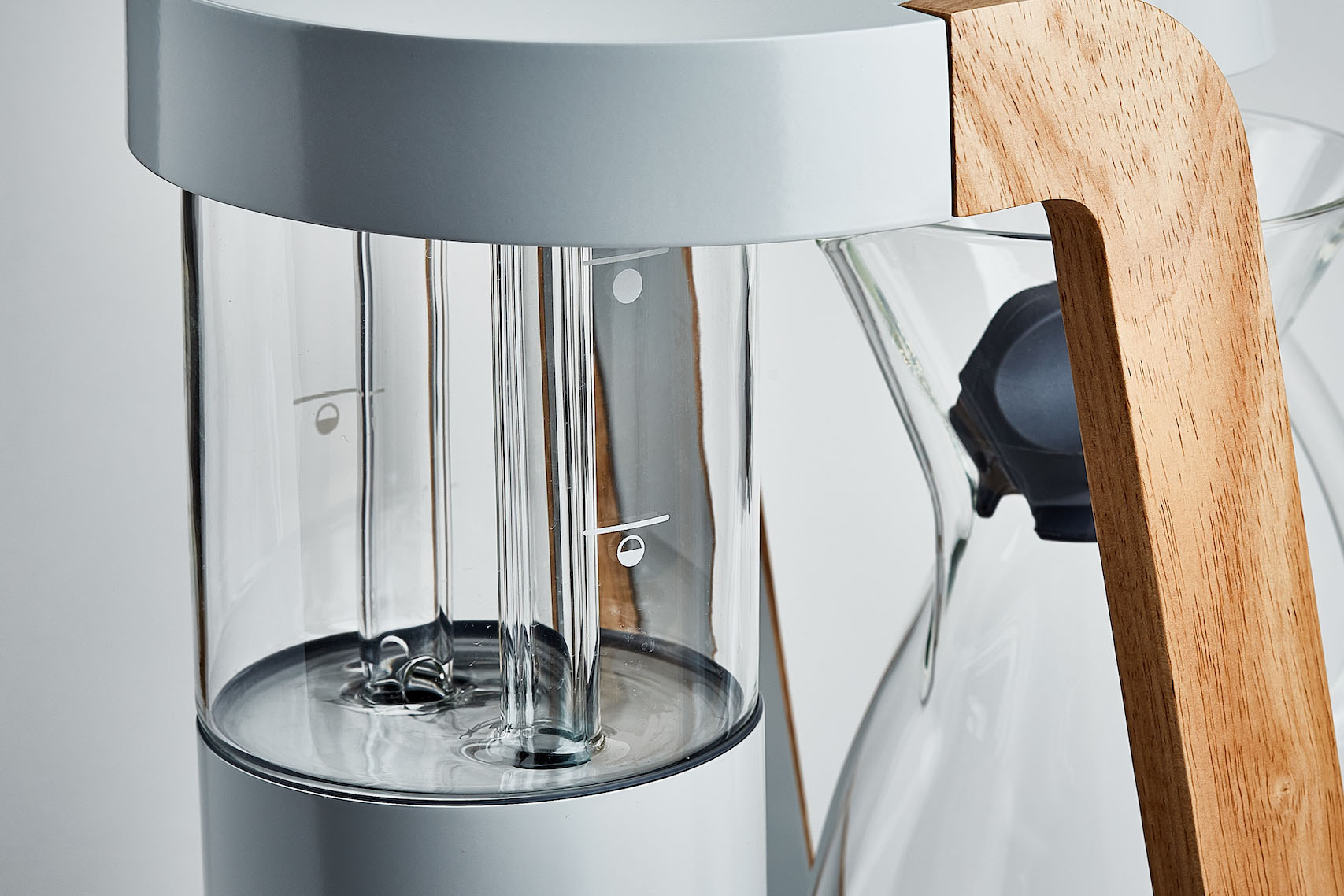 Brew from 2 to 8 cups.
Choose from a BPA-free copolymer or handblown borosilicate glass water tank with accurate markings for full (40 ounces / 1.2 liters of brewed coffee) and half (20 ounces). With either tank choice, once the water is heated it flows through handblown glass supply lines before hitting the stainless shower head.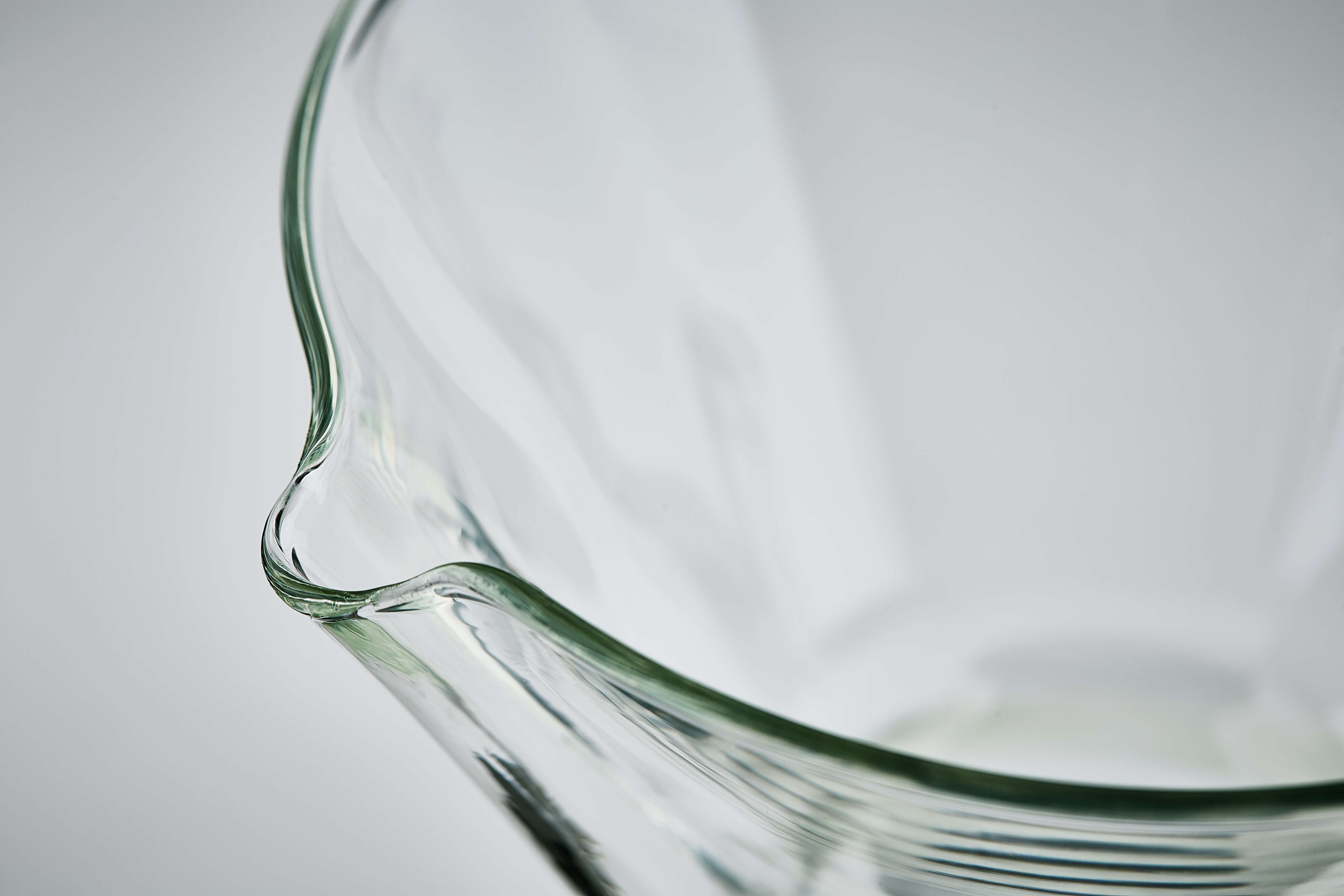 Handblown glass.
Each Ratio Eight ships with a handblown borosilicate glass carafe that holds a Chemex paper filter or the stainless steel Ratio Kone. Each carafe will have slight differences due to its artisan handblown nature, lending a subtle contrast to the perfection of the cast metal.
---