Build your perfect machine.
---
---
"Making sure our morning coffee ritual is enjoyed to the maximum, Ratio 8's coffee maker simulates the pour-over brewing methods of your local barista, precisely tracking the water levels and temperature for the best-tasting cup. You'll never buy coffee out again."
"The Ratio Eight coffee machine combines the same principles used to brew by hand in a pour-over device, and adds precise technology so you get the perfect brew every time."
"The beauty of this machine...comes both from the handcrafted materials it is made with as well as the flavor profiles it exposes in your beans. The flavors listed on coffee bags that used to escape me (cherry, vanilla, tobacco) are suddenly vivid."
"Typically, a perfect cup of coffee required fussing with pour-over devices that look more like lab equipment than high-end kitchen gear. No wonder coffee circles are buzzing with anticipation over the Eight."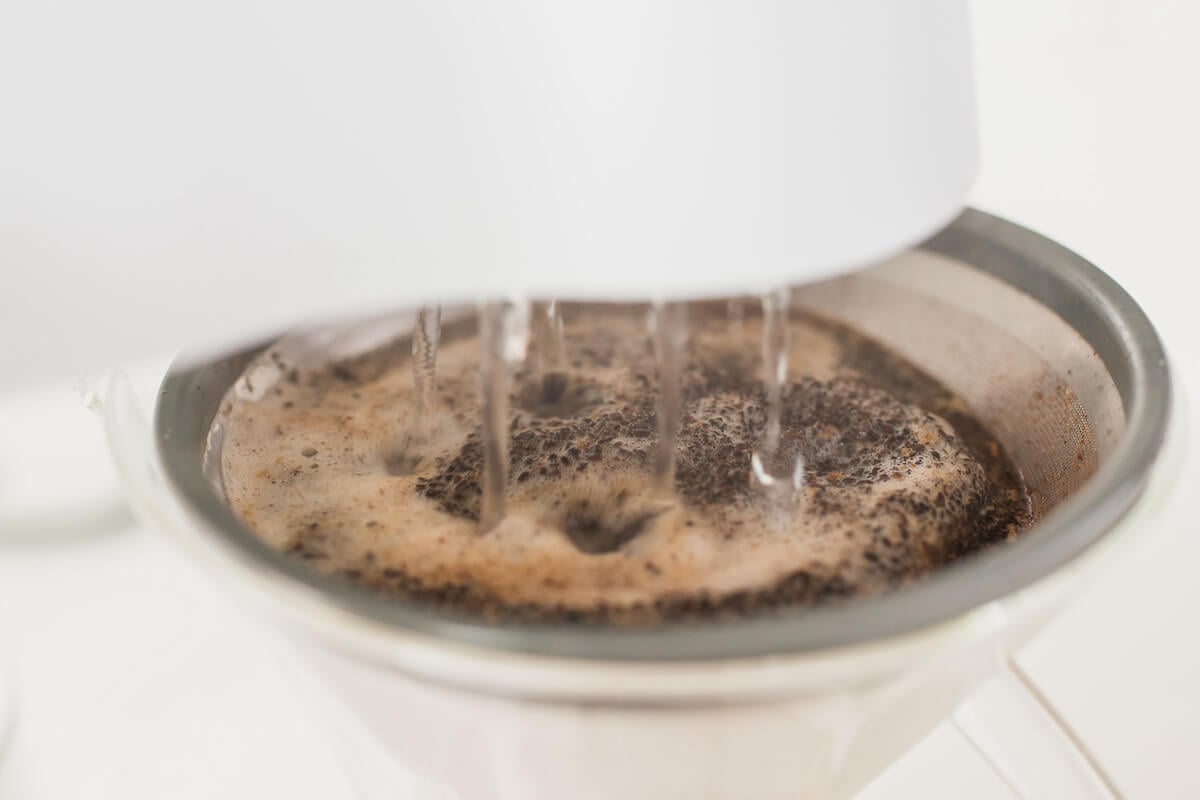 Deliciously simulated pour over.
The Ratio Eight coffee maker simulates a skilled barista pour over, precisely metering the water flow during both the bloom and brew phases. All the taste without the work.
Seamless
One button operation.
Simplify your coffee routine to the touch of a button. The Ratio Eight's Bloom, Brew, and Ready phases run in sequence, delivering a perfect (and easy) cup of coffee every time.
Hand-Assembled
Made with premium materials.
We believe quality design deserves the best materials. That's why we built the Ratio Eight with precision-machined aluminum, borosilicate glass, and a selection of premium hardwoods.
Top Tier
Stainless steel shower head.
A die-cast aluminum element heats water to an ideal extraction temperature. The water flows through a stainless steel shower head designed for even distribution over the grounds.
Engineered for extraordinary coffee.
Ratio is smarter than your average coffee maker. Beneath the exterior is precise brewing science, automated. Ratio is equipped with a powerful heating element. Where lesser machines struggle to maintain the optimum temperature – brewing either too hot or too cold – Ratio delivers water at or near the optimum temperature of 200 degrees.
Gathering feedback from champion baristas and our customer base, we have developed a machine that emulates a manual pour-over, fine-tuned to provide a sweet cup that lacks bitterness.
Hot water poured over fresh roasted coffee causes a bubbly interaction called a "bloom." The control board of Ratio applies a bloom cycle that allows the bloom to settle down before delivering the rest of the hot water. The result? More evenly extracted grounds and a more amazing cup of coffee.
The finest materials.
There are coffee machines that make great coffee and there are coffee machines that look great. Ratio is the first coffee machine that is truly both, combining form and function.
The materials chosen for the Ratio machine juxtapose the precision of high-tech with the irregularity of natural finishes. Precision die-cast aluminum bases with premium coatings are contrasted with figured hardwood.
Designed and assembled in Portland, Oregon, every Ratio Eight thermal machine is meticulously assembled by hand. While common appliances often have a built-in obsolescence and a life span of maybe 2-3 years, Ratio is designed to last.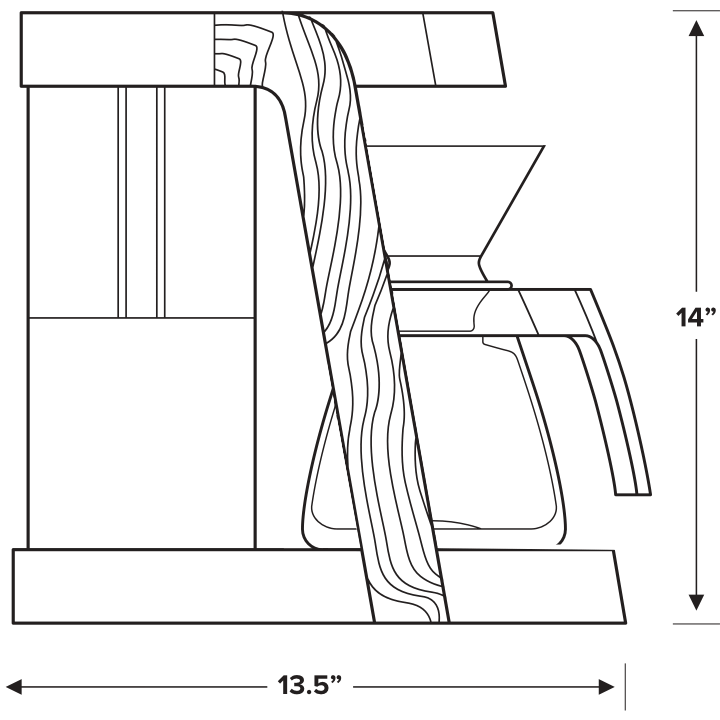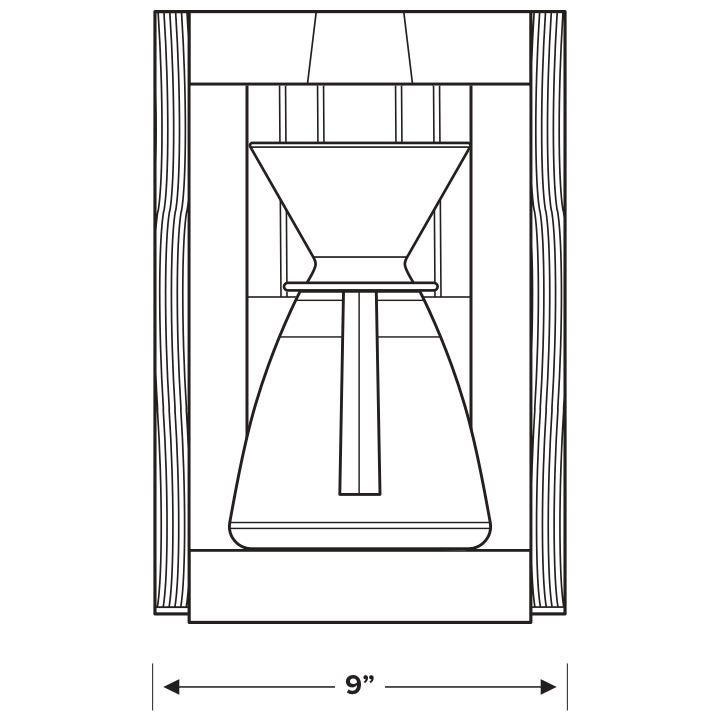 Weight: 12 lbs
Electric: 120 volt heating element
Capacity: Brews up to 40 oz (eight 5oz cups)
Thermal stainless steel carafe
Ceramic Dripper that holds Chemex filters or stainless steel Ratio Kone filter
Ceramic Catcher to hold the Dripper after brewing
Silicone Heat Lid
Ratio Microfiber Towel
Chemex Paper Filters - 4 sample filters
Operation guide
Removable power cord
Compare Ratio machines.
Whichever Ratio model you choose is the product of our closest attention to detail and commitment to incredible coffee.
Compare Ratio machines.

Whichever Ratio model you choose is the product of our closest attention to detail and commitment to incredible coffee.

Ratio Eight Thermal Set

$845.00

Ratio Eight

$645.00

Ratio Six

$295.00

Dimensions
14.25" H x 9.75" W x 13.5" D
14.25" H x 9.75" W x 13.5" D
14.25" H x 6.75" W x 13.5" D
Weight
14 lbs
14 lbs
8 lbs
Brewing Capacity
Up to 40 oz (eight 5 oz cups)
Up to 40 oz (eight 5 oz cups)
Up to 40 oz (eight 5 oz cups)
Customization
3 colors + 3 hardwoods
3 colors + 1 hardwood
3 colors
Body
Precision die-cast aluminum
Precision die-cast aluminum
Formed stainless steel
Water Tank
Handblown Glass
BPA-free polymer
BPA-free polymer
Supply Lines
Handblown borosilicate glass
Handblown borosilicate glass
Handblown borosilicate glass
Included Carafe
Ratio Eight double-wall stainless steel thermal carafe + ceramic dripper
Handblown borosilicate glass carafe
Ratio Six double-wall stainless steel thermal carafe + stainless filter holder with BPA-free liner
Carafe Options
Add an optional handblown glass carafe
Add an optional Ratio Eight double-wall stainless steel thermal carafe
Add an optional handblown glass carafe, or use the Ratio Eight thermal carafe + ceramic dripper
Filter Type
Conical like Chemex paper or Kone stainless steel
Conical like Chemex paper or Kone stainless steel
Flat bottom like Melitta filter 8-12 cup
Shower Head
Stainless steel spiral
Stainless steel spiral
Stainless steel spiral
Warranty
5-year warranty
5-year warranty
5-year warranty
Assembled In
USA
USA
China